The beginning of September is not so long ago, and as the calendar was flipping and major league rosters were expanding, Carlos Rodon was one of the most productive starting pitchers in all of fantasy. He ranked 11th in Roto value among starting pitchers for July and August combined (per CBS rankings) and ninth in fantasy points in standard CBS points leagues over the same period. In short, Rodon had been performing like a fantasy ace for two solid months.
He was consistent, too. Every single one of Rodon's nine starts in July and August was a quality start, and six of them lasted seven innings or more.

Rodon's first quality start of September didn't come until Wednesday night, as he gave up two runs in six innings against the Royals. At least for fantasy owners, it wasn't a satisfying performance, as Rodon walked five batters for his second start in a row. Even though he is not even two weeks removed from an extended run of success, owners are now turning on him. Rodon is the fourth-most dropped starting pitcher in Yahoo leagues and the seventh-most dropped starter in ESPN leagues.
It's not hard to understand why fantasy owners would lose patience quickly with Rodon. After all, it's crunch time, and Rodon has turned in three unproductive starts in a row. If one were inclined to look past a mediocre outing against the Red Sox and a five-walk effort against a selective Angels lineup, it's hard to cut him slack for issuing five free passes to the aggressive Royals. Rodon himself acknowledged that his command "wasn't great," and his pitch chart from Baseball Savant shows that he was missing the strike zone by a lot when he wasn't leaving pitches in or near the heart of the zone.
It's also easy to dismiss Rodon's earlier success, because much of the credit for his 1.84 ERA and 0.93 WHIP over that period had to go to his unfathomably low .175 BABIP and 6.2 percent HR/FB. He certainly did not have the strikeout rate (20.1 percent) or walk rate (11.1 percent) of a fantasy ace.
Rodon's season-to-date .209 BABIP in particular defies belief. It's the lowest mark for any pitcher this decade who has thrown at least 100 innings in a season. The next two lowest single-season BABIPs belong to Chris Young (.209 in 2015) and Marco Estrada (.216, also in 2015), a pair of flyball-prone pitchers known for getting popups galore. When Young and Estrada were at their best, they could offer a low ERA and WHIP, even when their strikeout and walk rates were nothing to get excited about. Like his two predecessors, Rodon is enjoying an ultra-high popup rate (24.5 percent, per xStats).
The post-shoulder surgery version of Rodon is less alluring from a fantasy perspective, due to a precipitous drop in his K-rate, from 25.6 percent in 2017 to 18.6 percent in 2018. Yet in terms of ERA (3.10) and WHIP (1.11), this has been his best season to date by far. Rodon has de-emphasized his sinker, making room for more four-seam fastballs, which now comprise nearly half (48.5 percent) of his total pitches thrown. In addition to throwing his four-seamer more often, he is typically locating it higher in the zone, avoiding the lower third to a much greater degree.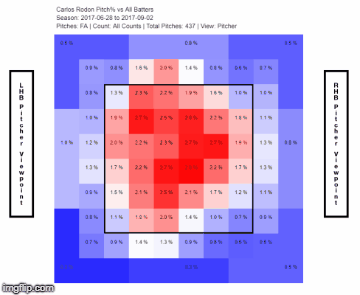 The higher location has likely aided in Rodon getting more flyballs and popups on the pitch. As shown in the table below, Rodon's flyball rate on his four-seam fastball has soared 22 percentage from last season, up to 52.4 percent, and the proportion of flyballs that are infield flies is at a career-high rate. Meanwhile, he is setting career lows for BABIP and HR/FB on the pitch. He has also been among the best pitchers in the majors in terms of inducing soft contact on his four-seam fastball. A year ago, hitters were averaging 91.5 mph in exit velocity when making contact with the pitch, according to Baseball Savant. So far this season, that mark has dropped to 85.0 mph, which is the seventh-lowest average among the 125 pitchers who have allowed at least 100 four-seam fastballs to be put in play.
Carlos Rodon Four-Seam Fastball Stats by Season
| Season | Pitches | FB% | IFFB% | BABIP | HR/FB | SwStr% |
| --- | --- | --- | --- | --- | --- | --- |
| 2015 | 808 | 34.8% | 15.2% | 0.285 | 8.7% | 6.2% |
| 2016 | 1132 | 32.8% | 19.4% | 0.383 | 19.4% | 6.5% |
| 2017 | 437 | 30.4% | 19.0% | 0.242 | 19.0% | 8.5% |
| 2018 | 849 | 52.4% | 26.0% | 0.207 | 5.2% | 5.2% |
While it is hard to see Rodon's season-to-date overall BABIP as anything other than unsustainable, he could still follow in the footsteps of Young and Estrada as a consistent preventer of hits on balls in play. In other words, a post-regression version of Rodon would still have a BABIP that was much lower than average. His .260 xBABIP (per xStats) for this season supports that notion.
Rodon is also locating his slider more towards the lower corner on his glove side, and hitters have done virtually nothing with it this season. Opponents have collectively posted an .067/.153/.112 slash line against his slider, batting just .132 on balls in play.
It is riskier to rely on a pitcher who succeeds by inducing soft contact than to rely on someone who is better at avoiding contact altogether. We can't expect Rodon to be that latter type of pitcher now, but he has been one of the best pitchers who succeeds the former way.
Fantasy owners should not be holding that against him. He is scheduled to face the Indians in Cleveland on Wednesday, and when he started against them just over a month ago, he tossed eight scoreless innings, allowing two doubles, two singles and two walks. Even if you are concerned about the matchup, it should pay to pick him up, if he is available. As of now, Rodon lines up to make two starts — at home against the Indians and on the road against the Twins — for the season's final week. If he regains his form from July and August, you can at least consider using him for a two-start week that could help you finish your 2018 season on a high note.
Al Melchior has been writing about Fantasy baseball and sim games since 2000, and his work has appeared at CBSSports.com, BaseballHQ, Ron Shandler's Baseball Forecaster and FanRagSports. He has also participated in Tout Wars' mixed auction league since 2013. You can follow Al on Twitter @almelchiorbb and find more of his work at almelchior.com.