So here it is – my first bold predictions piece. I love making bold predictions, and all of these will probably turn out to be wrong, but here goes.
1. Yasiel Puig finishes in the top-5 of the MVP Voting.
Expecting Puig to break out in the friendly confines of the Great American (Launching Pad) Ballpark isn't bold, but I think this is. Last year, Puig posted his best wRC+ since 2014, and the best major league .ISO of his career. Even better, his strikeout (19.6%) and walk (8.1%) rates stayed pretty much in the range of his career marks (19.2% and 9.2% , respectively), meaning he wasn't selling out for power. Puig also raked at a .270/.329/.546 rate in the second half, suggesting that he might have even more power than what he showed this year. Moving to a hitter-friendly ballpark in a division with weaker pitching, a deceptively good lineup, and in a contract year, I expect Puig to obliterate his career highs in just about every counting stat except stolen bases. I expect 30 homers, 100 RBIs, and an OPS better than .900, and a .300/.400/.500 season with 40+ homers wouldn't surprise me.
2. Patrick Corbin finishes with an ERA and FIP over 4.25
In other words, I don't think he's worth where you're drafting him. Why? What concerns me, first and foremost, is the weird dip in his average fastball velocity last year, which impacted both his four-seamer and his sinker.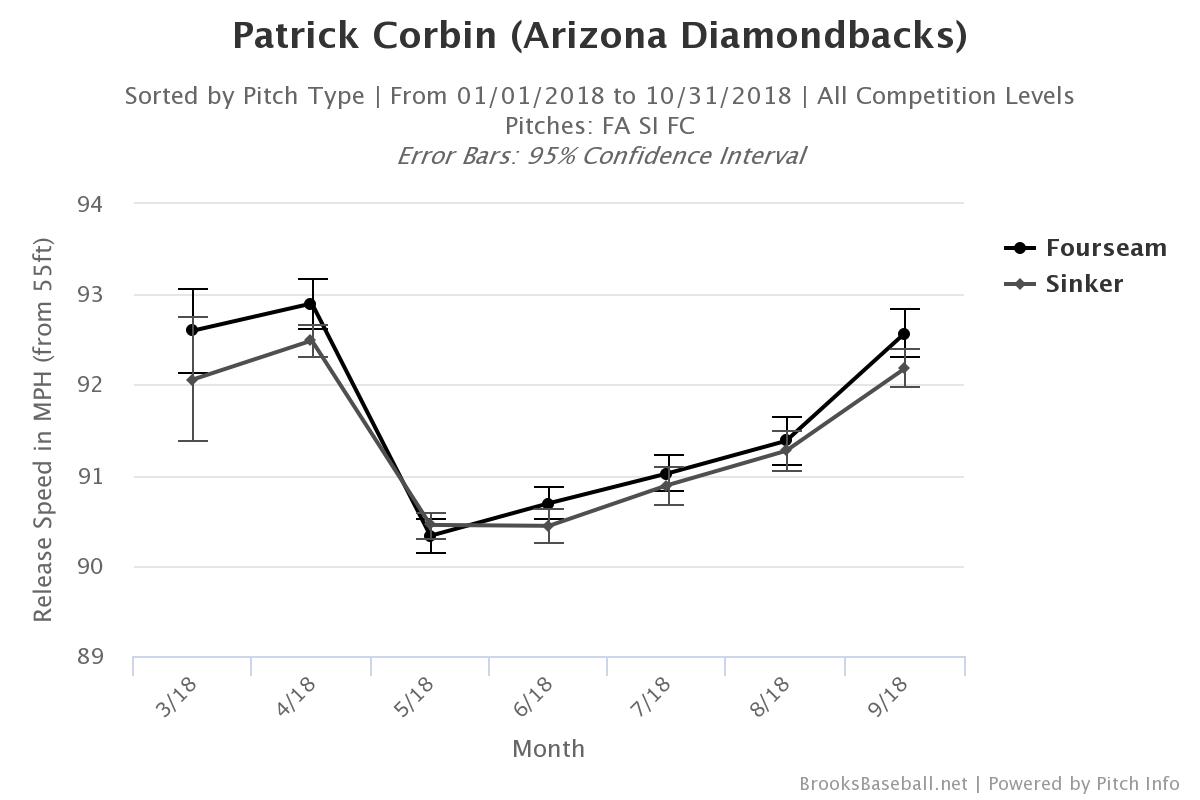 The dip is even more pronounced on his max velocities: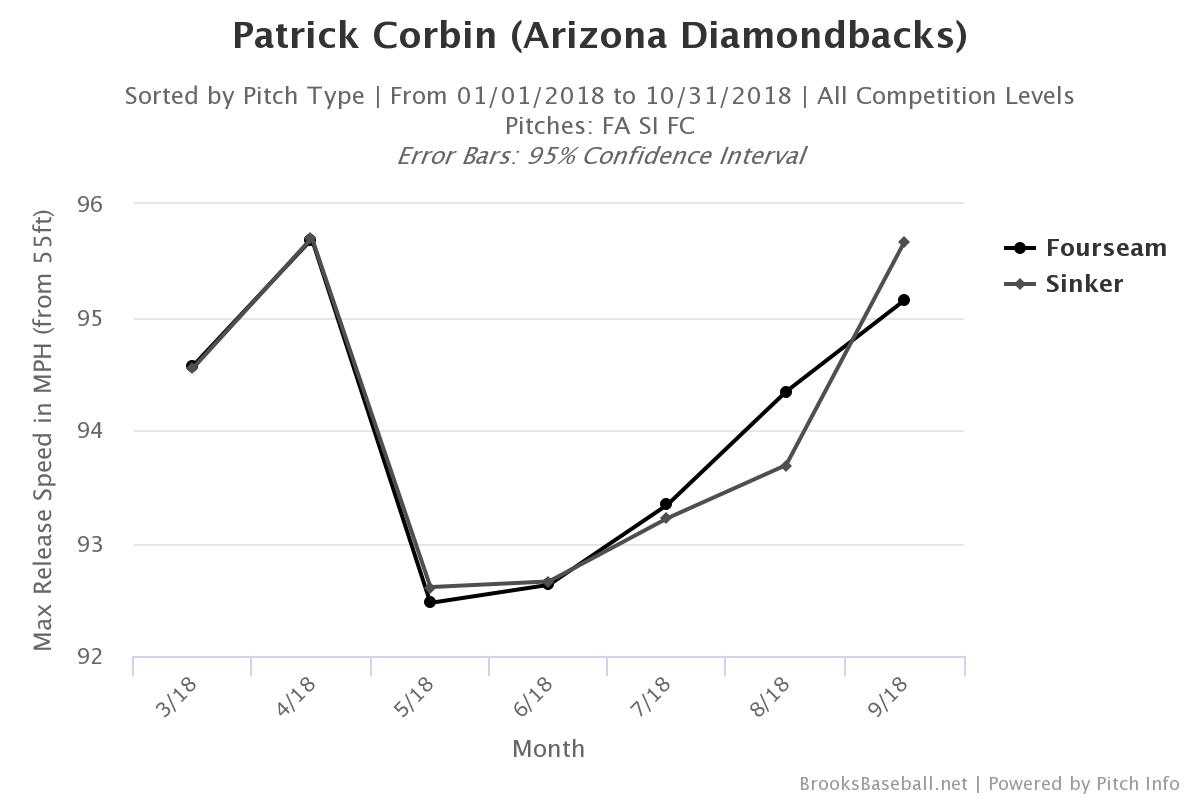 Corbin's velocity rebounded somewhat towards the end of the season, and he didn't lose his effectiveness. But he might have gotten somewhat lucky. As the season wore on, hitters swung more and more at his magnificent slider:
I don't expect that trend to continue if Corbin's velocity fluctuates this season; Corbin's fastball is straight, fairly slow, and hittable, and I think hitters will start to sit on it. We're already seeing the lefty starting to tinker with a changeup, which to me isn't a good sign in year 1 of his deal with Washington. I think Corbin's 2019 will look an awful lot like his 2017.
3. Neither Luke Voit nor Greg Bird Will Start 100 games at First Base
Let me rephrase this by saying that I think the Yankees will end up acquiring a first baseman at the deadline. Greg Bird has looked good this Spring, but he always looks good in the Spring, and last year his walk rate cratered and his power collapsed as he proved incapable of catching up to even mediocre fastballs. Luke Voit, on the other hand, was a revelation down the stretch for the Bombers, but he also had a .365 BABIP and is a year removed from "hitting" .246/.306/.430 for the Cardinals. I like Voit, but I see him more as a Steve Pearce-type than a full-time first baseman, and Bird isn't anyone's idea of a good left-handed platoon partner. I'm taking the under on Steamer's projected 115 wRC+, and I wouldn't be surprised to see Yonder Alonso platooning with Voit come August.
4. Caleb Smith and Lewis Brinson Are the Only Fantasy Relevant Marlins
The Marlins are going to be a bad team, but drafters seem to like third baseman/right fielder Brian Anderson. I'm not sold. Anderson can draw walks and has a bit of power, but I don't think he'll repeat his .332 BABIP. I think he's a league average hitter – he'll post a 100 wRC+ or so with a dozen homers – and that's not playable in most leagues given how deep the outfield and third base are. Curtis Granderson is old, Starlin Castro is irrelevant, and Jose Urena is waiver wire fodder.
On the other hand, I would wager that Caleb Smith is the most likely pitcher to pull a 2018 Patrick Corbin and be an out-of-nowhere ace. Smith has a similar arsenal, anchored by an awesome slider, and he showed the ability to miss bats consistently in his climb through the Yankees' minor league system. Smith struck out 27% of hitters in 2018 at the big league level (10.24 K/9) and plays in a pitcher-friendly park. That strikeout rate alone makes him rosterable. If he can tone down his walk (10.1%) and homer (1.16 HR/9) problems, he has top-of-the-rotation stuff.
Lewis Brinson is another post-hype sleeper I'm buying in 2019. The centerpiece of the Christian Yelich trade with Milwaukee, Brinson's power-speed combo is still intact even after a putrid 2018. Brinson has been tearing up trhe Grapefruit League, with five homers, a double, and a stolen base after an offseason of work on his swing. Brinson is the kind of talent who could post a 20-20 season similar to Tim Anderson's 2018 even if he doesn't completely soplve his contact issues. And if he does? Look out.
5. No Oriole Finishes In the Top 200 Players
The Orioles are going to be bad. But I think they might be really, really bad, and even their young talent might not be rosterable. I don't buy that Cedric Mullins can hit enough to be a full-timer. Austin Hays swings and misses too much. Mark Trumbo and Chris Davis are sluggers who no longer slug, and Davis has managed to somehow look worse in the Grapefruit League than he did in 2018. Dylan Bundy regressed badly last year, as injuries took a toll. Alex Cobb's second half turnaround wasn't backed up by his peripherals, as he still allowed hard contact and didn't miss bats. Simply put, I don't see a single Oriole worth rostering, and there's nobody I'd wager on as a sleeper. Stay away.
6. Vladimir Guerrero Jr. Is Not the AL Rookie of the Year
This doesn't mean that I think Vladito will be bad. I think he'll be awesome! But he also has an oblique strain, and obliques are notoriously fickle. Vladito won't resume baseball activities until April, and I don't think the Jays bring him up as soon as he's ready. If we don't see the future superstar until June, by that time Kyle Tucker, Tristan McKenzie, Brent Honeywell, and Christin Stewart will likely all have head starts in a ridiculously talented crop of American League rookies.
7. Shohei Ohtani Posts a wRC+ of Less Than 100 and Plays In Fewer Than 50 Games
This prediction comes from three places. First, Ohtani is still hurt, and it's really really hard to focus on both being a full-time designated hitter and a starting pitcher rehabbing from Tommy John surgery. Second, Ohtani is going to be out until at least May, meaning that he might not see the lineup until the summer. And third, Ohtani the hitter wasn't as dominant last year as you might think. He hit .222/.300/.354 against lefties in 2018, struck out at a 27.8% clip overall, and ran a .350 BABIP that probably isn't sustainable despite his good speed. Oh, and did I mention that better than a quarter of all of his fly balls left the yard? That's not sustainable either. It's not that I think Ohtani is a bad hitter – far from it. But as the Angels meander through yet another non-competitive season in the prime of Mike Trout, it won't make a lot of sense to rush Ohtani back, nor will it make sense to run him out there every day if he's slumping.
8. Javier Baez Is Not A Top-50 Player
Baez was awesome in 2018, but he's a year removed from a 98 wRC+, and he really didn't improve his plate discipline all that much. What's most worrisome is that Baez's walk rate actually went down between 2017 and 2018, and his infield fly ball (pop-up) rate spiked to the highest rate since 2014. Strikeouts and pop-ups are a bad combination, and between those two that's a lot of automatic outs. If Baez's career-high 24.3% HR/FB% and 12.6% infield hit percentage regress, both is batting average and power output could suffer without any kind of plate discipline to fall back on.
All of this means that Baez might be the riskiest first rounder in recent memory. Now, I don't think Baez will crater, but I do think we just saw his career year, and he's probably closer to 2017 moving forward. If you are buying him as your team cornerstone, a .270/.310/.480 line with ~20 homers and ~10 steals isn't what you're looking for. 
9. Ramon Laureano Is the Second-best Outfielder in the AL West
No, he won't be better than Mike Trout. But he will be better than everyone else in his division. Laureano has power (.200 or better iso at three separate minor league stops), speed (averaging better than 30 steals/500 PA in the minors), decent plate discipline and a cannon of an arm.   Before Laureano stabilized center field in Oakland down the stretch in 2018, he mashed to the tune of a .297/.380/.524 line in AAA. He won't flirt with a .300/.400/.500 triple slash in 2019 over a full season – he strikes out too much for that – but even a .250/.350/.450 line can be the offensive game of an All-Star where elite defense is concerned, as teammate Matt Chapman has shown. I think Laureano establishes himself this year as Chapman's outfield counterpart, riding twenty-homer power, a lot of walks, and excellent defense to a star-level breakout. The only difference is that Laureano, unlike Chapman, can steal bases.
10. Victor Robles Has A More Valuable 2019 Season Than Bryce Harper
Just in case you thought my first nine predictions weren't bold enough, this one's a doozy. Look, this isn't a knock on Harper so much as it is a recognition that he's probably closer to a 4-win player than a 9-win player, and Robles is really, really good. The 21-year-old youngster is everything you want in a baseball player – he's fast, plays fantastic defense, has yet to strike out at even a 20% clip in the minor leagues, and even flashed burgeoning power during a brief cameo with the varsity squad last September. Steamer sees Robles posting a .274/.335/.417 triple slash with a dozen homers and a couple of dozen steals, and I'll take the over across the board. Robles reminds me a lot of early-career Carl Crawford, and that guy was a fantasy monster. I think Harper will be worth every penny of his 13-year contract, but I also think Robles will be better than Harper during the life of that deal – starting in 2019.
Bonus: I will have a higher finish than Brad Johnson in the Fangraphs Staff Two Ottoneu League.
Because Brad is going to lose to a girl.
So there.
Sheryl Ring is a litigation attorney and General Counsel at Open Communities, a non-profit legal aid agency in the Chicago suburbs. You can reach her on twitter at @Ring_Sheryl. The opinions expressed here are solely the author's. This post is intended for informational purposes only and is not intended as legal advice.