Last Friday, we held our first best ball auction on Fantrax. Today, I'm here to report both some of the results and a few tricks I learned along the way – and will be subsequently fixing. Lastly, I'm announcing Best Ball Auction #2 to be held on the evening of Wednesday, March 25.
:Hot Fire Emoji:
The first best ball auction is a 12-team league with $260 budgets, eight active hitters (any position), two starting pitchers, two relievers, four general purpose pitchers, and 12 bench spots. Best ball automatically scores the top performers on a weekly basis at their relevant positions (I still don't know how Shohei Ohtani is going to work). All such formats use points scoring, and I imported FanGraphs Points from ottoneu to replace Fantrax's nonsense default system.
The draft started off at ottoneu-ian pace with a $70 Ronald Acuna and $68 Mike Trout. The bullish spending continued for a little over 30 picks. In my opinion, the inflection is easy to spot. The 33rd nomination, Shane Bieber went for $37. The 34th nominee, Mike Clevinger, cost only $29.
You'll notice one owner ended with $181. He thought the draft was at 11:00am PT rather than ET. The rest of us were settling in for dollar days by then so he was the last to show and one of the first to finish.
Unusually, even elite relievers went for peanuts. Only Josh Hader and Kirby Yates cost $10 or more.
For full auction results, check out this link which can be sorted by nomination order or team.
My Draft
I like to take a savant approach to drafting – perhaps a sign of my hubris. I prefer to think my economics background and auction experience have prepared me to adapt to any drafting conditions. When rivals come out firing with both guns, the instinct is to hunker down and wait for the values. I tend to find this is a great way to finish with a bunch mid-tier bargains and an extra $60 of unused budget. Instead, I look for the least-bad early values.
In this draft, the values showed up fairly early because the early bidding was so aggressive. I didn't stick around to find out though, instead wading into the deep end for a $48 Juan Soto, $26 George Springer, and $26 Noah Syndergaard. I made the mistake of setting a high $22 nomination on Fernando Tatis Jr. I assumed the bidding might reach up to $40 even though he's maladapted to the FGpts scoring system. Instead, crickets.
Since I landed some offensive whales, my general strategy focused on building up pitching depth. I used two-thirds of my bench (i.e. eight of 12 spots) on arms – mostly starting pitchers.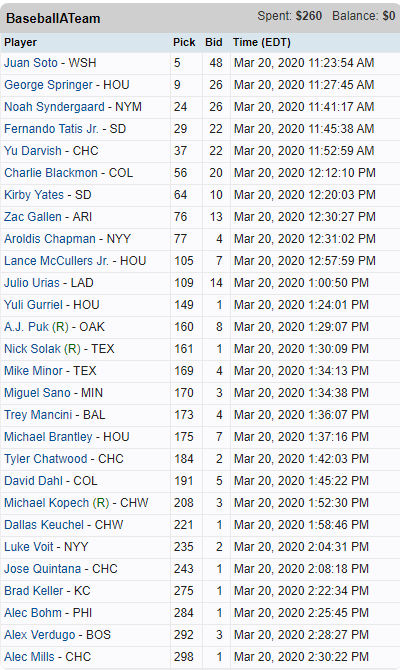 In-Draft Discoveries
When I designed the league, I listed a couple reliever slots in an attempt to confer some value to those pitchers. In a default ottoneu league, relievers are very important by design. We're given five starting pitcher and five reliever slots. The platform is designed such that a player can only score points if used in the correct role. For instance, if Diego Castillo appears as an Opener, he has to be listed SP. His follower, Ryan Yarbrough, would need to be in a reliever slot. While that particular quirk is somewhat unintended, these rules prevent managers from gaming the system over SP/RP eligibility.
Fantrax has no such limitations. I found Julio Urias, A.J. Puk, Alec Mills, and even scrubby Tyler Chatwood not only had RP-eligibility but projected to outperform the very best relievers in a typical week. A normal start for a mid-tier arm runs around 21 points. A relief appearance generally settles in around seven points. My pair of elite closers should sit a hair under 10 points per inning.
Over a full season (ignoring the delay for the moment), Urias projects to deliver something like 850 points compared to 600 to 700 points for Aroldis Chapman and Yates. The real relievers give me a high floor at those spots. The fake relievers offer the upside to run away with some free points.
My other discovery related to the quick auction times which I set to speed along the draft. We had 30 seconds to nominate, 10 seconds for the initial bid, and the clock reset to nine seconds with every bid. The initial bid time was just a tad taut.
For the next draft, I will be removing the starter and reliever qualifications. Excellent relievers will still have a place on teams as a way to ensure a backbone of solid production – probably at around the same prices we saw in the first draft. I'll also increase the initial bid time to 12 seconds while lowering the reset time to seven seconds.
Best Ball Auction #2
The second draft shall be held on Wednesday night at 7:00pm ET/4:00pm PT. If you would like to participate, please contact me on Twitter @BaseballATeam or email my Yahoo username pitchin432. Here are the proposed settings:
12-team mixed
no buy-in
$260 budget
FGpts
8 hitters
7 pitchers
10 bench