When Alex Wood reached an agreement with the Dodgers on a one-year, $4 million contract on Sunday, it didn't quite get the attention of, say, Gerrit Cole's megadeal with the Yankees. The Dodgers are bringing the 29-year-old lefty back after a one-year hiatus in Cincinnati to compete for the fifth spot in the rotation, so it shouldn't have been a headline-grabbing move. Yet it has only been three years since Wood was one of the biggest stories in fantasy, ranking as a top 10 starting pitcher despite totaling 152.1 innings. After having missed much of 2016 with an elbow impingement, Wood went 16-3 with a 2.72 ERA, 1.06 WHIP and a 24.6 percent strikeout rate.
If 2019 hadn't happened, this would have been a much more celebrated move, but as it turns out, 2019 did happen. Wood developed back issues in spring training, and he did not make his debut with the Reds until July 28. He started off decently enough, allowing two runs in each of his first two starts, but then he went on to roll off a string of four starts that produced 18 runs (16 earned) in 18.1 innings. He rebounded with a quality start against the Marlins, though all three runs he allowed were solo homers, giving him a total of 11 allowed in 35.2 innings. After that start, Wood's back stiffened up again, and he would not take another turn in the Reds' rotation. He finished with only one win and a 5.80 ERA.

The persistence of Wood's back issues last season should be enough to make fantasy owners squeamish about drafting him, even in deeper leagues, especially since he has not exceeded 160 innings in a season since 2015. Still, even if he were to win a rotation spot, stay healthy for all of 2020 and fix his home run problem from 2019, Wood would need to do even more to become a must-own pitcher in 12-team leagues. He started taking steps back in the latter part of 2017, as he lost velocity on his sinker and saw his strikeout rate dip below 20 percent from August 1 of that season forward. Wood's sinker velocity fell further in 2018, and his average of 90.4 mph was nearly 2 mph below his average for all of 2017 (92.1 mph). His strikeout rate rebounded in 2018, but only slightly, to 21.2 percent, after he had compiled a 27.3 percent rate between the beginning of the 2016 season and July 2017.
Wood had been good at getting swings-and-misses during his strikeout peak, with an 11.6 SwStr%, but he was superb at freezing batters, recording a 20.6 percent called strike rate between April 2016 and July 2017. In 2018, Wood was getting far fewer whiffs on his changeup (10.9 percent SwStr%, as opposed to rates above 15 percent in both 2016 and 2017), which led to a slight overall drop in SwStr%, but the biggest change was that he was no longer freezing batters at an extraordinary rate. His 17.5 percent called strike rate for 2018 was less than a percentage point above the major league average.
In addition to allowing more contact in 2018, Wood allowed harder contact that season. He was still far better than average at limiting hard contact on flies and liners, allowing an average exit velocity of 91.8 mph on airborne balls (EV FB/LD), but opponents hit grounders with an average exit velocity of 84.7 mph. That was more than a 4 mph jump from his 2017 mark of 80.6 mph. If Wood had been able to induce weak grounders as frequently in 2018, he might have been able to approach the .267 BABIP he allowed the year before. Instead, he reverted to a near-normal .293 BABIP.
Unless he can return to averaging 92 or 93 mph on his sinker, we can't expect Wood to get back to being even an average pitcher for strikeouts. He was able to post a 3.68 ERA in 2018 largely on the merits of a low HR/9 (0.83), which was supported by a low EV FB/LD. As homer-prone as Wood was in 2019, his 92.6 mph EV FB/LD was downright respectable. The issue for Wood was that he allowed hitters to pull flies at a 32.4 percent rate. That stands out as an extreme outlier, as he had a career 20.4 percent flyball pull rate heading into last season.
Wood got even worse at freezing batters in 2019 with a 15.9 percent called strike rate, but even if he is merely average in that regard, he could be a sub-4.00 ERA pitcher in 2020. The key is for him to avoid home runs. Moving from Great American Ball Park to Dodger Stadium should help in that regard, but Wood will need to locate his pitches better. In 2018, he was typically pitching away from righties and in toward lefties, but in 2019, Wood was hitting the lower-center part of the strike zone with much greater frequency.
Want to take a guess where Wood was giving up the most extra-base hits in both 2018 and 2019? That's correct, down and center.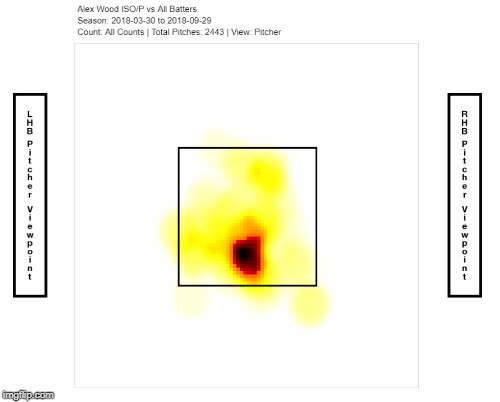 A lot has to fall in place for Wood to regain any sort of fantasy value in 2020, starting with having a good spring. He will be competing with Dustin May, Tony Gonsolin, Ross Stripling and Jimmy Nelson for a rotation spot. Even with a strong Cactus League performance, he could get relegated to the bullpen with any of those four candidates getting the nod for a starting role. If Wood does win the job in the spring, he will not only need to get more strikeouts to succeed, but also — and more importantly — to keep his pitches out of his opponents' wheelhouses. He will need only modest improvement in the former area, but achieving the latter will be absolutely critical if he is to be worth adding outside of deeper leagues this season.
Al Melchior has been writing about Fantasy baseball and sim games since 2000, and his work has appeared at CBSSports.com, BaseballHQ, Ron Shandler's Baseball Forecaster and FanRagSports. He has also participated in Tout Wars' mixed auction league since 2013. You can follow Al on Twitter @almelchiorbb and find more of his work at almelchior.com.